We may earn a commission if you make a purchase from the links on this page.
What is the best tablet out there? This is one of the questions that seem easy and straightforward to answer at first, even though it is not. It is a question that doesn't have a universal answer. Some would immediately point at the most powerful options the market has to offer: those with gorgeous displays and immense amounts of processing punch, but also with the steepest prices. Others would rather go for something a bit more balanced: something a bit easier on the pocket, yet still capable of getting the job done. 
No matter which side you're on, the list below surely contains a tablet that would serve you well. 
Contents:
Apple iPad Pro 11- and 12.9-inch (2021)
Apple quite frankly shocked us when refreshing the iPad Pro line just a year after the 2020 models were released. The shock wasn't so much the timing — it was the chip inside. The new iPad Pros rock an Apple M1 — a processor that was first introduced for MacBooks and desktop Macs. In other words — the 2021 iPad Pros are actually as powerful as a desktop computer.
To top it off, the 12.9-inch model has a Liquid Retina XDR display — utilizing mini-LED tech, it's capable of outstanding contrast, detail, and brightness, like the extra-expensive Pro Display XDR monitor it released in 2020.
Both the iPad Pro 11 (2021) and iPad Pro 12.9 (2021) have 120 Hz screens with 240 Hz touch sampling — they feel very, very responsive.
These come with apps for creatives — Apple's own GarageBand and iMovie are available for free, and there are tons of great video editing apps on the App Store (personal favorite — Enlight Videoleap). Rumors say we might see Final Cut Pro for iPad Pros in the near future. While these are just whispers, we do question why the new iPad Pros come with M1 and 8 GB / 16 GB of RAM.
Yes, the iPad Pros (2021) are extra-pricey for tablets, but thanks to a robust ecosystem, a very functional iPadOS, USB Type-C (actually, it's a Thunderbolt 3 port), support for mouse, keyboard, and trackpad, great speakers and beautiful screens, it's easily the best pair of tablets out there.
Samsung has its own pair of hard-hitting tablets. The Galaxy Tab S7 and Tab S7+ come included with an S Pen stylus. And, since the Note series perfected the S Pen experience, you can rest assured that drawing and writing on the Tab S7 line feels superb.
With Samsung's own OneUI interface on top of Android, these tablets are also built for work and multi-tasking — split screen, multiple windows, quick app switching. DeX mode specifically makes them feel like Android-powered laptops, as it brings a desktop experience to your mobile device. Slap a keyboard on them and you are ready to write articles on the go — I rarely go out of DeX mode when using a Samsung tablet. It's just so convenient.
The Galaxy Tab S7's quad speakers are not as meaty as the iPad Pros', but they still sound good.
Do note: the Galaxy Tab S7+ has a 120 Hz Super AMOLED screen, which looks fantastic — crisp, vibrant, with deep blacks and high brightness. The regular Tab S7 takes a step back and has a 120 Hz LCD screen, which still looks good — just not as good.
Apple iPad Air 4th gen
Real talk — the iPad Pro is overkill. Both in terms of features and price. If you want that high-productivity Apple tablet, but aren't willing to pay as much for an iPad Pro 11 or iPad Pro 12.9, check out the iPad Air 4th gen (a.k.a. 2020 model).
It has the same form factor as the iPad Pro 11, so it fits the Apple Magic Keyboard. It also supports the 2nd gen Apple Pencil.
Where does it cut corners? For one, the iPad Air 4 does not have quad speakers — it has two drivers, which are positioned on its top and bottom (Apple calls this "landscape stereo"). Basically, this is fine, because you will get true stereo whenever your tablet is in landscape mode 95% of the time you are watching media on it). The bigger setback is the screen refresh rate — the iPad Air 4's screen caps off at 60 Hz. You can definitely feel this if you are downgrading from a Pro, but you should otherwise be fine with the Air.
But hey, the iPad Air is available in a bunch of fun colors, unlike the "boring" Pro models, and it starts at $600, leaving some budget for an Apple Pencil or Magic Keyboard, if you are eyeing those.
Apple iPad (2020)
If you are looking for a base tablet experience, you just can't go wrong with an iPad 10.2 (2020). These start at $330 and deliver great performance, a good-looking LCD display, detailed-sounding speaker, and still support an Apple Pencil.
The base tier does only give you 32 GB of storage, which is pretty abysmal. But, again, if you are just looking for a Netflix machine — you can't go wrong here.
Samsung Galaxy Tab S6 Lite
If you are just looking to dip your toes into tablet usage with a stylus, without spending too much cash, the Galaxy Tab S6 Lite is available to you. It comes with an S Pen out of the box, which still can magnetically stick to the tablet — just like the big boys.
The downsides here are a noticeably slower processor and an LCD screen that's nowhere near as pretty as the AMOLED panels on the big Tab S6 or the current Tab S7+ flagships. 
Amazon Fire HD 10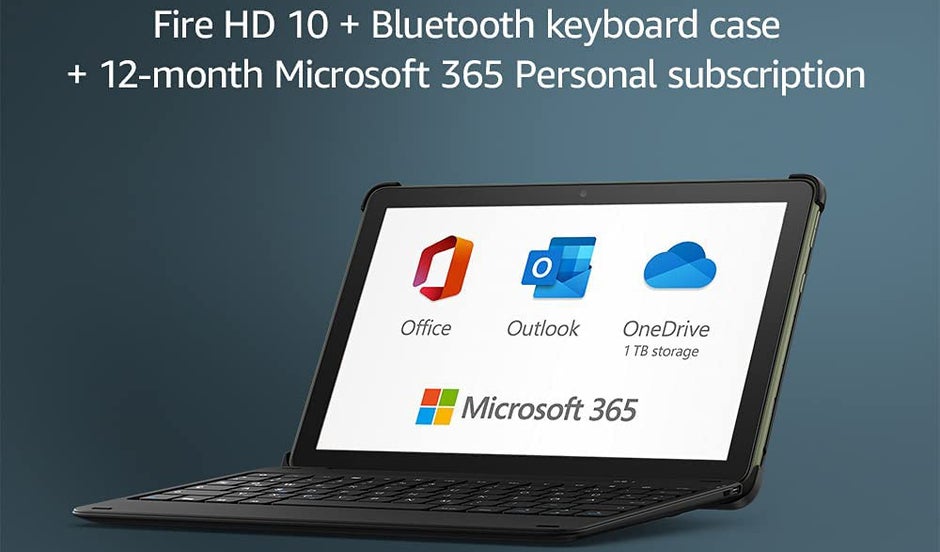 "Best" can mean a lot of things and while Amazon's Fire HD 10 can't keep up with the rest of the tablets on this list when it comes to specs, it has them all beat in one department: the price. Costing between 2 and 5 times less than the rest, the Fire HD 10 offers incredible value.
Amazon even confidently bundles the new Fire HD 10 with a Bluetooth keyboard, giving you a tablet/laptop hybrid at an incredibly low price.
While the Fire HD 10 is technically an Android tablet, it's running on a heavily modified Amazon-centered software and doesn't come with Google's Play Store (there are ways to install it, if you insist). Still, Amazon's own app store offers enough variety to fit the relatively narrow focus of this tablet, so for most people this won't be an issue. The new Fire HD 10 tablet comes with 12 months of Microsoft 365, too, as to underline its new aim at productivity features.
Keep in mind that the Amazon Fire HD tablets have historically not had the best performance. They are great as simple slates to enjoy some media on, but don't expect a laptop replacement unit here.
Microsoft Surface Pro 7
Microsoft's tablets truly try to deliver that protable PC experience — the Surface Pro slates are powered by Intel chips and come with Microsoft Windows on board. They are fully compatible with Bluetooth keyboards, mice, and styli and are heavily marketed towards professionals. And, you guessed it, they can be pricey.
Currently, the Surface Pro 7 is the latest model you can buy, and that was released in 2019. Rumor has it that we might finally see a revamp in the second half of 2021, so — if you are hunting for the biggest, best, latest, and greatest — maybe give it a couple of months and see if we get more news about it. Otherwise, the Surface Pro 7 is a pretty serious machine, delivering desktop Windows experience on the go.